11/05/2023
Lumipol invests in building for the companies DET and Xeamos in Wijchen
Back to overview
In May of 2023, the large-scale renovation of the current company building of Diesel Equipment Trading (DET) at Bijsterhuizen 2209 in Wijchen will start. The building will be expanded with the addition of a new office building with a total of 900m2, spread over three floors.
Xeamos is scheduled to move into the new building in March 2024. DET will also remain in the building and will welcome Xeamos as neighbours.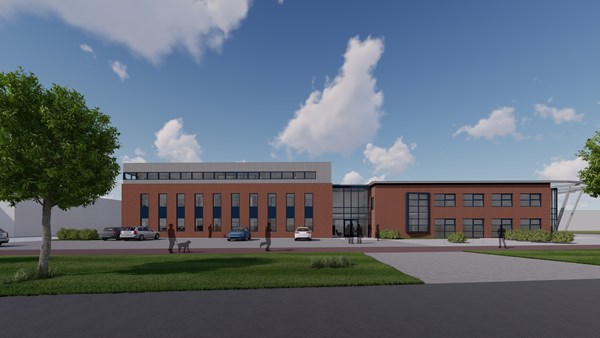 Growth as a driver
The new building will add a surface of 900 m2 of office spaces for Xeamos. And in addition, Xeamos is also going to occupy around 800 m2 of workshop and warehouse space. "Due to the enormous growth of Xeamos, the old location in Wijchen became too small. As an investor, we are involved and we think along with our companies in every aspect. One of these aspects is housing," says Sven Krieckaert, COO of the Lumipol Group, investor and owner of the building. 

The renovation will be carried out by construction company BCP from Cuijk. Sven Krieckaert: "We are happy that we and the team of Xeamos, together with the architects, found a good solution for the expansion of our own buildings." The building is sustainably heated by means of a heat pump and the energy required is generated via solar panels.  

Xeamos currently has 35 employees and sells more than 100 aftertreatment-systems on a yearly basis. De estimation is that this figure will rise to over 200 systems in the next three years. Alwin de Kock, CEO of Xeamos: "I am proud of the progress that Xeamos has made. From a team of six employees to a industry leader in aftertreatment systems. Clean Air Engineering is our contribution to a more sustainable world. We are looking forward to the move and what the future will bring." 

About Xeamos 
Xeamos is an industry leader in the highly specialised field of emission-reducing solutions that directly or indirectly contribute to a better environment. Clean air is the source of life for people and planet, and Xeamos innovation helps create a healthier world. Xeamos cooperates with technology partners and like-minded clients who can rely on technical know-how, in-depth market expertise and a strong understanding of laws & regulations. Xeamos supports clients in tackling emissions and solving the challenges they face in relation to reduction requirements. Visit www.xeamos.com for more information.